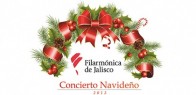 CHRISTMAS CONCERT
CHRISTMAS CONCERT 2013
Friday, December 13, 2013
Sunday, December 15, 2013
CHRISTMAS CONCERT 2013
Orquesta Filarmónica de Jalisco
Allen Vladimir Gómez, Guest Conductor
Claudia Rodríguez, Soprano
Flavio Becerra, Tenor
Coro de la fundación José Cuervo, Associate Director Raul Banderas
PROGRAM
GEORG FRIEDRICH HÄNDEL, The Messíah
Sinfonía
And the Glory of the Lord
WOLFGANG AMADEUS MOZART,
Motet "Exultate jubilate" KV 165
Claudia Rodríguez, Soprano
PIOTR ILICH TCHAIKOVSKY, "The Nutcracker, Suite #1
March
Dance of the Sugar Plum Fairy
Trepak (Russian dance)
MARK BISSON, Christmas Prelude: "The Noel and The ivy"
LEROY ANDERSON, Bugler´s Holiday
Trumpets: Araceli Villalvazo Robles
Adrian Dwight Griffin
Federico Palacios Jiménez
SUITE: "There's Christmas in the Air"
FRANZ GRUBER, Silent Night. Arr. CHIP DAVIS/ CALVIN CUSTER
Laila Kanniña Rozenbaha, Violoncello
Carolina Rodríguez,Piano
ANONYMOUS, We wish you a Merry Christmas
TRADITIONAL, Suite Mexicana, Las Posadas
LEROY ANDERSON, Sleigh Ride
SUITE: "Jingle Bells Forever"
Friday, December 13th, 8:30 PM
Sunday, December 15th, 12:30 PM
Teatro Degollado
View event details