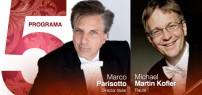 Master Class
MASTER CLASS IMPARTED BY FLAUTIST MICHAEL MARTIN KOFLER
Thursday, March 05, 2015
The OFJ takes pleasure in inviting the public to participate in a Master Class, which will be imparted by esteemed flautist MICHAEL MARTIN KOFLER, Principal Flute of the Munich Philharmonic Orchestra (Münchner Philharmoniker). The master class will take place on Thursday, March 5, 2015, in the auditorium of the School of Music of the Universidad de Guadalajara.
The class is intended for professional musicians who specialize in Flute Performance, and for the general public. There will be two categories of attendees: Participant and Auditor.
Auditorio Enrique Díaz de León del Depto. de Música de la Universidad de Guadalajara.
View event details